Blog
Upgrading Tech: Refurbished vs. Second-hand
by Pia Kalwani on Aug 24, 2023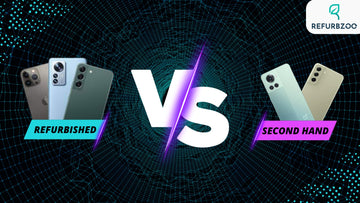 This world has crazy resources available for each one of us. However, are we using them smartly? That's a tricky question. Because there is a huge confusion that keeps us in a false bubble. If we could name one of such messy confusion in a lot of people's mind, then it's none other than: the battle between refurbished vs used phones. Having resources isn't sufficient. You should be mindful enough to grab what you exactly need.
 Having a mental fight between strong desires to buy a new phone while struggling to gather funds can be troublesome. You need not to scratch your head while choosing between refurbished and second hand phones. What you really need is proper knowledge!!
We will help you to kick away this dilemma. There are plethora of questions that we are going to discuss and let you enjoy a deeper understanding of refurbished and second hand phones.
What is the difference between refurbished and used or second hand phones?
Both of the above have had a previous life and are most probably used by someone else in the past. Well, the basic difference is that the second hand phones are pre owned devices which are sold as-it-is without any repairing or quality checks. On the other hand, refurbished phones have their own past journey, but they are not sold in their current condition. Every refurbished phone is restored, repaired and then it enters the quality testing process. Once the experts meet certain performance standards, the refurbished phone is sent ahead for sale.
 Now, let us differentiate refurbished versus pre owned phones on the basis of different factors.
Warranty
Warranty is a very subjective choice. Different brands have different policies related to their warranty policy. The best idea is to approach the brand first and discuss their warranty policy. However, most of the second hand phones are sold without any warranty.
Accessories
Alike new phones, if you decide to purchase a refurbished phone will also get the accessories with it.  Unfortunately there is no confirmation about accessories if you go with a second hand purchase. The seller may or may not provide you with required accessories with a second hand device.
Parts of the device
When you purchase a new phone, there is no question about the parts. You get new parts. If you purchase a refurbished iPhone in UAE, the parts might not be new but they are well checked and have had undergone meticulous quality checking process. On the contrary, second hand phones have used parts that are sold without any quality checks.
Life expectancy
Purchasing a second hand phone can be a dicey situation. If you are fortunate enough it might accompany you for a long period. However, you can't predict the life expectancy of a second hand phone. When it comes to refurbished phones in UAE, these devices keep you safe for a longer time. Because refurbished phones are sold after a proper fixation process.
Do you want to know if refurbished phones are reliable or not?
Well, after going through a tough testing and repairing journey, it becomes as good as a typical new device. You can rely on something that has been enhanced up to its original condition. However, a second hand phone comes with a fear of wear and tear. You might face quality issues in the future.
How do I know if a refurbished phone is in good condition?
People search for refurbished vs pre owned iPhone on Google so that they can find out which one is better. The answer is: go for a trustworthy brand and don't rely on random sellers. Refurbished champions in Dubai like Refurbzoo offer transparency with its products. We spill the beans on the process of refurbishment and the actual condition of the phone that a customer is going to purchase. Hence, transparency provides a clear sign of trust that a refurbished phone is in good condition.
Refurbished vs Used: which one is cheaper?
Second hand phones wins at the game of cheaper price. Are they cheaper than refurbished?
You bet!! If your mean goal is just to stay under the boundaries of your budget without caring about the quality, then second hand phones are perfect for you. If you want something that's comparatively cheaper than a new phone but way too much better in quality than a second hand phone your choice should be refurbished phone. It is cheaper than a new phone but when it comes to quality it as good as new one.
Refurbished vs pre owned which is better in quality?
The answer should be: trust after you experience. You should consider a good brand that deals into quality products. If you are thinking of purchasing a second hand phone then nobody can assure of its quality. It might work great for you and vice versa. However a refurbished phone under goes inspection and repairing process that makes it a qualified product. You can always trust on a reputed brand like Refurbzoo that has set a benchmark in dealing with high quality refurbished phones in Dubai.
Which one is best: Refurbished or second hand phones
That's a million dollar question. If your priority is to urgently buy a phone under a little budget and you don't mind a little bit of wear and tear, then you may consider second hand phone.
However, if you can stretch your budget just a little, then refurbished phones are a treat. These are quality champs that don't hurt your pocket too much. You get a new-like phone with awesome performance standards.
Simple answer -
Tight budget, urgent, quality compromise: second hand phones.
Budget is moderate, quality is the preference: refurbished phones.
Where can you buy refurbished phones in Dubai?
There is a whole market awaiting your presence. You can consider a brand like Refurbzoo that deals in refurbished phones in Dubai. You should always check out the website and reviews before making a decision to purchase your favourite phone.
You can also read this: How to choose a refurbished phone in Dubai?
Conclusion                                       
Refurbished and second-hand phones offer unique paths to ownership, each with its own set of advantages and considerations. Armed with the knowledge from this guide, you can confidently embark on your shopping journey, whether you're aiming for the pristine quality of refurbished or the character-filled history of second-hand. You just need to find your sweet match!! Refurbzoo is going to keep guiding you until you find your ideal phone.