Blog
Get More For Less: The Best Places To Buy Pre-Owned Phones UAE
by Pia Kalwani on Nov 10, 2023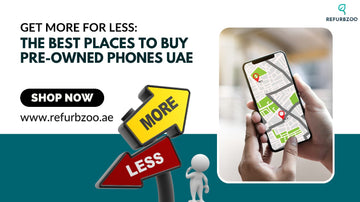 Do you know what has become a necessity these days? A reliable smartphone!! Yes, we all need a phone that works like a Pro and is flawlessly well-updated. However, everybody is aware of the fact that buying new phones means inviting another hike of stress hormones. The reason is this rising inflation. You need to spend a lot of money to purchase a brand-new phone. It disturbs your overall financial planning.
What is the smart solution? Well, there is a cool alternative that a lot of people are already opting for!! Pre-owned phones UAE. Yes, people are finding these Refurbished phones cool.
You just need an ideal platform to rely on. Here is your go-to destination for buying Refurbished phones in Dubai:
Refurbzoo: An awesome destination for a smooth phone shopping experience
A refurbished smartphone that doesn't hurt your pocket: Purchasing a refurbished phone offer substantial savings compared to brand-new phones. What is the benefit of switching to pre-owned phones if you don't get bonus savings? Choosing a platform that values your budget is very crucial. You can't feel satisfied enough if you have go pay hefty price on your purchase.
Refurbzoo is striving in understanding the financial limits of its consumers. That is why, a huge number of people have started trusting Refurbzoo. You can still upgrade your phone and save enough cash.
A smartphone that is equally awesome in terms of quality: You decide to buy a refurbished phone because it can totally replace a brand-new phone in terms of quality. There are many retailers available in the market that sell cheap quality Refurbished phones at highly discounted prices. You may get fooled by watching those fascinating price tags. However, soon you would break your bubble. A poor quality Refurbished phone will start showing tantrums within a few days of purchase. It can embarrass you at very wrong moments. You need to trust a company that always deal in quality products. Refurbzoo follow an intense refurbishment process.
It includes initial diagnosis, inspection, repair and replacement, restoration, testing and finally, certification. This entire journey of a phone makes it reliable and 100% functional just like a new phone.
A smartphone that takes care of the environment: Buying a new phone means giving extra pain to the environment. The manufacturing of a new phone isn't easy. It requires a lot of energy, water, fossil fuel, minerals, metals and more. Also , in return we give a lot of electronic waste and greenhouse gas emissions to our planet.
On the other side, reputable brands dealing in the best refurbished phones Dubai like Refurbzoo are different. Refurbzoo has always assured that the environment is not getting hurt with its work. Refurbished phones are comparatively safer for the planet. Because it saves a lot of electronic waste and exploitation of natural resources.
The bottom line
These are the most common reasons that make people trust Refurbzoo to
buy Refurbished phones Dubai
. You should always rely on the retailers like Refurbzoo that offer affordable pre-owned phones with quality Assurance and warranty support. Start your shopping at
Refurbzoo.ae
to experience the joy of buying a ref