Blog
Get your iPhone fixed in Dubai: Schedule a visit or send it in for Repair
by Pia Kalwani on Sep 28, 2023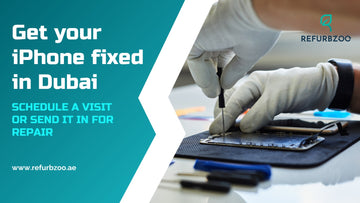 Do you have a habit of freaking out when something goes wrong with your iPhone? Well, it is not something out of the blue. Having an iPhone is not a big deal. Taking care of it is definitely what you can call a tough job. Nobody can get rid of unfortunate moments when you mistakenly damage your iPhone. Sometimes the loose grip of your hand lets the iPhone slip out. Or your little rockstars may treat your iPhone like a mike behind your back. You might throw your iPhone in a rush of anger.
There are endless possibilities that turn into reality when it comes to your iPhone. Not all days are the same. You have to be ready for whatever arrives your way. No matter how careful you are, there is still a high chance that your iPhone may call for some repair work in the future.
What will you do in that moment? Where will you take your iPhone? Hang in there. You can't trust random repairers to fix your iPhone. The cases of making the condition of your iPhone worse are increasing day by day. The local repair shops take away a good amount of money and in return, do a temporary fixation of your device. This led to further aggravated problems in your iPhone in the upcoming days.
You don't need to keep counting on your problems. Because every underlying issue comes with a brighter solution. Now the ball is in your court.
Do you want to know how? Let us read further:
Your iPhone is precious to you. However, it is not immune to accidents, technical glitches, or wear and tear. You can't even overlook all these issues because you need your phone every day. You need a reliable brand like Refurbzoo that can help you to repair iPhone in Dubai.
Why it is important to not get in the trap of random repairers and choose the best one?
Do you know that your iPhone is an indispensable part of your everyone routine!! If not repaired properly, you may lose your control over personal data and all the information stored in the device. Here is what you get by choosing reliable mobile repair in Dubai:
Money saving: When you don't get proper repair service, you are forced to buy a new iPhone. On the contrary, when you find a reliable brand like Refurbzoo, you can save a great amount of money by letting the experts repair your iPhone in no time. This way you can utilize that money for other important things. You need not buy a new iPhone just because this one isn't working efficiently.
Data preservation: Are you still thinking why not go to a random repair ship instead of any brand like Refurbzoo? Just ask yourself. Isn't your data important to you? How can you give access to your personal information and sometimes official data to any random shopkeeper? Anyone can misuse your data or transfer it to their systems for further cheating. What will you do then? You get helpless there. You need to preserve your data at any cost. The better idea is to find a trustworthy brand like Refurbzoo. It values the privacy of your data and promotes data safety during the repair work.
Lesser electronic waste: Do you have a habit of throwing away electronic items when they malfunction? Well, it is definitely not a good news for the environment. You should try to think of the alternatives first. A good repair service can make your device run as awesome as it used to. You won't find any major change in the external or internal working of your iPhone. The only deal is to pick an ideal brand that is equipped with professional experts who can handle every kind of malfunction in your iPhone and repair it with grace. When you can get your iPhone repaired without any hassle, why even prefer buying a new iPhone? You should be conscious of your choices as every decision impacts the environment in some way.
Extended lifespan: iPhones are highly valuable because of their longer Going to any random repair shop can make the condition of your iPhone worse. You may find the old problems of your iPhone arriving back in the device in no time. Older technical issues may make you frustrated and you will soon quit on this device. Eventually, you will be prompted to buy a new iPhone. Choosing the right iPhone repair services in Dubai means enjoying the longer lifespan of the device. Be wise in this decision.
Benefits of choosing Refurbzoo for urgent mobile repair service:
What is special about Refurbzoo and why it should be your go-to destination for iPhone repair at home? Let us explore:
Expert technicians: Would you rather hand over your iPhone to some random repair person or someone who is a champion in this technical industry? Your vote has to be for the champions. Of course, you can't ask some random person to help you out. You need to look out for professional experience, and expertise in the field. At Refurbzoo, you will be acquainted with premium repair services with experts who know how to tackle your iPhone issues with ease.
Genuine parts: The iPhone is that much more costly because of the expensive components used to manufacture it. Suppose you take your iPhone to a random repair person. He may not use genuine parts while repairing and replacing the defected parts with local parts. You will soon face issues even after repairing of your iPhone. Refurbzoo has successfully won the hearts of customers because we always prefer genuine and authentic parts while repairing your iPhone. That shows our concern for your device so that you can use your iPhone without any issues.
Exceptional customer service: Most of the mobile repair services in Dubai won't provide you post repair support. Refurbzoo stands strong on your side even after the repair work is done. You get 6 months of support and if you face problems after repair, you can contact us for help. The technical team will help you to solve the issues on your iPhone. That is how you will not freak out if something wrong happens with your phone. A safety factor builds trust between the buyer and the brand. Transparent customer support is all you need after the repair work!!
 Comprehensive services: Refurbzoo offers a variety of instant mobile repair services in Dubai. Here are a few:
Screen replacement
Water damage repair
Speaker and microphone repair
Charging port repair
Software troubleshooting
Data recovery
And many more!! If you are afraid that your iPhone can't be repaired now. Hang in there. You won't have to spend all your hard-earned money on buying a new iPhone. You can buy a 100% functional refurbished iPhone within your budget at Refurbzoo. This is the best way to save money and still get your problem solved in no time.
Competitive prices: Spending all your savings on iPhone repair services is definitely not what we had thought of or what we wanted. But what to do? Repair takes a lot of money, right? No!! It is definitely not right. Repair services are not always expensive. At Refurbzoo, you get premium quality repair support at a cost-effective price. We maintain quality while valuing your money.
Doorstep mobile repair service: This is a major treat for all iPhone users living in Dubai. You guys don't have to roam around to get your iPhone repaired. Refurbzoo takes pride in serving you with same day phone repair services at your doorstep. You don't have to make a fuss in your daily life or work life. You can schedule a visit and our experts will reach your location. They will diagnose your iPhone and repair it at your doorstep.
If you think your iPhone is severely damaged and it needs extra attention, you can send it in for repair at Refurbzoo Centre. You will not have to wait for hours and hours to get your iPhone repaired. You can sit in the comfort of your home and keep doing your regular work without any stress. Refurbzoo is there to tackle all your iPhone-related issues smoothly. Normally, when you take your iPhone to any random repair shop, there is no certainty that they will repair your iPhone within a day. However, Refurbzoo repairs your iPhone within 24 hours and returns it to you the same day.
Final Thoughts
Now you know how to get your iPhone fixed in Dubai with Refurbzoo. You can grab the opportunity to get doorstep mobile repair services!! You won't have to take stress now. Refurbzoo has tried its level best to make your life easier. The next time you face any issues with your iPhone, you know where to go!! You can simply send it for repair or schedule a visit. Our experts are quick and professional!! Your iPhone will be fixed in no time!!!