Blog
Why Refurbished iPhones are a great option for Dubai residents?
by Pia Kalwani on Sep 27, 2023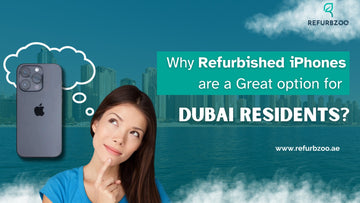 From the highly esteemed future museum to the astonishing Burj Khalifa, everything present in Dubai tells the story of a lavish and luxurious lifestyle. People staying in Dubai always give priority to magnificent things rather than something non-branded. Dubai residents shop like kings and queens. This is the reason why refurbished iPhones are on the list of TRENDING STUFF in Dubai.
There are a lot of options available to them. They can buy any smartphone. But their desires know no bounds when it comes to iPhones. It is something that Dubai residents can't compromise with. iPhones give a sense of opulence to their users. Of course, you can't deny the supreme quality of Apple products that present a smooth user experience.
However, it is not easy to purchase a new iPhone flagship every year. The ever-rising price range has started touching skies where your budget might not reach easily. This problem is solved with the availability of refurbished iPhones. There are some genuine reasons why you should purchase Refurbished iPhones in Dubai. Let us discuss them in detail:
Why spend all your savings?
Purchasing an iPhone is not a crime. But sometimes it is definitely an injustice for your pocket that bears the consequences of your decisions. Living in Dubai is definitely not a cakewalk or easy-peasy. It requires proper financial planning to survive there with a good quality of life. You need money for almost everything to do. Amid this tough life, spending a huge part of your savings on buying iPhones can sound dumb.
Apple launches new flagship smartphones every year to woo its target audience. People easily get fascinated by these latest phones and go literally crazy to purchase them. After all, their love for iPhones is unshakeable. However, affording a new iPhone every year is not only difficult but also somehow senseless until you are a totally tech-savvy person. 
Everyone is trying to beat the FOMO (fear of missing out) by purchasing an iPhone. The problem knocks the door when it comes to the budget. Borrowing money to buy an iPhone is not a very great idea. Then what exactly should you do? No!! You don't have to stop buying iPhones. Just adopt the affordable alternatives like millions of other smart buyers.
Refurbished iPhones in the UAE are highly in demand because of the MONEY factor. These are very much affordable. You can buy and upgrade to almost any iPhone model you want. From Refurbished iPhone 13 to iPhone 12 Pro, you have the option to buy any flagship within your budget.
Do you want a supreme-quality iPhone?
If yes, then you can put your best bet on refurbished iPhones without a second thought. These phones undergo a meticulous refurbishment process to ensure the premium quality of the iPhone. The device is restored to the level where it functions with its original performance. To meet the optimum functioning of the iPhone phone, the expert put in a lot of effort. Ultimately, you get an iPhone in your budget with premium quality.
Do you want to enjoy the latest features?
People want to upgrade their iPhones to have access to their latest features and specifications. However, these new iPhones come with hefty price tags that are sometimes beyond our financial limits. But still staying updated with the latest models and features is important for most people. Refurbished iPhones provide you the opportunity to choose your favorite iPhone model and buy it at a pocket-friendly price. Also, you can now have access to the best features and specifications without thinking about money. Because these are a bit inexpensive in comparison to the brand-new iPhones.
Do you want customer care service after your purchase?
People think that buying a new iPhone means getting proper customer care support even after buying. Does that mean you don't get customer care services after buying Refurbished iPhones? No!
You need to choose the right seller for your Refurbished shopping. Sellers like Refurbzoo give a smooth customer support service to cater to all the problems and queries of its customers. Apple itself sells Refurbished iPhones and provides the exact same customer support as the original iPhone support services.
Additionally, you get warranty support when you buy new phones. But what about the warranty policy for refurbished iPhones?  Popular and reliable refurbished iPhone sellers in the UAE provide a comfortable warranty period to their customers. You don't have to worry about it. You can relax and enjoy the services.
Do you want to contribute to a sustainable environment?
We all like the idea of saving our environment and making it greener. But we rarely think about how!! How can you conserve the environment? The answer is simple. Go for refurbished iPhones that are user phones given a second chance with an extended lifespan. They work better than ever.
 You save one phone from being trashed in the landfill. You save one phone from being manufactured by utilizing a lot of natural resources gifted by our environment. You save the environment from breathing harmful greenhouse gases and carbon emissions. This is what a smart buyer does. You can think sustainably and make eco-friendly choices while fulfilling your desires and requirements.
Do you want quality assurance for your iPhone?
After the entire Refurbishment process, the experts go for certification to ensure the quality. So the next time you go to buy Refurbished iPhones, always look for certified devices. You get proper accessories like headphones and charger cables if you choose the trusted sellers.
How to find a reliable seller to buy a refurbished iPhone?
If you don't want to spoil your Refurbished shopping experience, make sure you choose the right platform. Here is a step-by-step guide:
Step1: Define your requirements
To begin your shopping, start with defining your requirements. Decide which brand, what model, and under what budget you want your phone. Try to observe what specific features and specifications are very important for you on the phone.
Step 2:  Research sellers
Start surfing the internet with the best Refurbished iPhone retailers in Dubai. You can consider Refurbzoo, a well-known platform to trust for your refurbished iPhone needs. If you are thinking of buying it offline, then start asking your acquaintances and family members about the best store in your region.
Step 3: Check for the seller reputation
How can you trust anyone whom you don't know at all? In this case, you should look out for customer reviews and feedback on their website or check their social media comments to find out what the previous customers have to say about these sellers. This builds trust in your mind for the seller.
Step 4: Verify warranty and return policy
Before confirming the retailer, always read their warranty and return policy. Are they even providing it? If not, then you can't trust them wholeheartedly. Because you may change your mind after purchasing the phone and want to return it. Or you may start facing issues with your iPhone just after a few days of buying it. Having a proper warranty and return policy is very important for the customers.
Step 5: Ask questions
Don't hesitate to clear out your queries. You can ask the team to tell you about their refurbishment process briefly. You can ask about the previous condition of the phone and what has been repaired or replaced in the phone. The way they respond to your questions will tell a lot about their behavior towards the customers.
Step 6: Compare prices
Don't trust blindly any seller. Compare the price range of your preferred iPhone on different platforms to find out the most affordable one. You need to grab the best deal. Also, you need not to fall for cheap prices. Watch out for all the important factors along with their prices. Because you don't want a low-quality iPhone at a cheap price.
Step 7: Check certifications
Always buy a Refurbished iPhone that has all the necessary certifications attached to it. Certification ensures that the quality of the Refurbished iPhone is at its level best.
Step 8: Make a purchase
Finally, after watching out for all the factors, you can purchase your favorite iPhone.
Conclusion
This is the article for why it is an awesome idea to buy a refurbished iPhone in Dubai. There are plenty of benefits to buying used smartphones.
Additionally, now you know how can you find a reliable seller for refurbished iPhones. You can always reach out to Refurbzoo to purchase premium quality refurbished iPhones at an affordable price. With Refurbzoo, it has become easier to support the idea of sustainability and environment-friendly activities. Visit Refurbzoo.ae now and grab the best iPhone for yourself.