Blog
The growing market for refurbished phones in Abu Dhabi: A global trend
by Pia Kalwani on Sep 26, 2023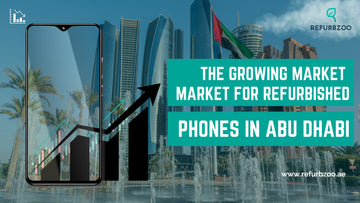 According to recent reports, 78% of consumers who have switched to Refurbished phones are highly satisfied. Moreover, they are actively recommending refurbished phones to their near and dear ones.
These pocket sized devices look small but are a huge part of our lives. Phone stays with us in the most important work and also in the times of boredom. From being our personal entertainment center to meeting hubs, smartphones are always contributing the most to our day-to-day activities. But what is the role of refurbished phones here? Why are these used phones gaining crazy popularity? Some would say it is just for the environment and others may claim this is a cost-effective alternative. But is this all?
Let us find out why Refurbished phones in Abu Dhabi are trending:
The rise of Refurbished phones globally
Before understanding what is cooking in the minds of people living in Abu Dhabi, you should know about the global trend too. Because the popularity of Refurbished phones is not limited to the UAE.
Do you know?
According to the International Data Corporation, the market share of Refurbished phones was 15% in the global smartphone market. This means consumers are showing positive interest in these phones.
People all around the world are consciously choosing Refurbished phones for many reasons:
Cost-effective choice:
Of course, you can't deny that everyone loves some extra cash in their pockets. Probably this has always been the major factor that drives people towards Refurbished phones. When you think about purchasing new flagship phones, you first think about your budget. There is some new phone being launched almost every day in the market. You can't spend all your income on buying those phones.
The rising inflation has been a real-time tension for most of the people. Due to inflation, the shopping capacity for expensive phones has also slipped. People can't afford to buy something that costs them their blood and sweat. Therefore, refurbished phones act as a supreme alternative for a lot of people. These used phones are almost half or even one-fourth as expensive in comparison to brand-new phones.
Environmental consciousness:
According to the reports, approximately 225 million kilograms of electronic waste was saved due to the alternative of refurbished phones.
We all are witnessing major environmental challenges in these recent years until now. Literally, nobody is blind enough to avoid watching natural disasters. From rising global warming and climate change to the reduction of natural resources, we are watching it all. Do you know what is massively mounting the environmental concerns in the world?
Electronic waste!! Yes. There are endless side effects of manufacturing phones or even discarding them is highly harmful for the Earth. It takes a lot to recycle the discarded phones. You already know what all natural resources are used in the making of a new phone.
Also, what do we give back to our Mother Earth? A lot of carbon emissions, greenhouse gases, landfills full of heaps of electronic waste, and more bad stuff. Using Refurbished phones is an initiative to show a token of respect towards our environment. People are gradually understanding the value of sustainability and the conservation of natural resources.
 How Refurbished phones are saving the environment? When you purchase a used phone, you save a phone from being discarded in the trash. You contribute to increasing the lifespan of a device that was almost left as useless trash. These Refurbished phones don't utilize that much of natural resources. Because they are not built from scratch. They consume almost negligible energy and raw materials. Most of the time, these used phones need only a little care and they are good to go. These are new-like phones with an extended lifespan.
High-standard performance:
Another key factor responsible for the rising popularity of Refurbished phones in Abu Dhabi and around the globe is performance. Yes! That's very much true. You get a phone working as awesome as its brand-new counterparts. Performance-wise, Refurbished phones are pretty well. The only thing you should remember is to buy these phones from reputable sellers like Refurbzoo who serve you genuine Refurbished gadgets in Abu Dhabi. All the faulty components are replaced or repaired and the device is restored to its original specifications to meet the optimum requirements of a smooth device.
Warranty and quality assurance:
Almost 75% of the Refurbished phones come with proper warranty support. This is why they are not less than a brand-new phone. All the customers are acquainted with proper customer care services when they go to the right seller. Additionally, after all the Refurbishment processes like inspection, repair, replacement restoration, and testing, there is one more step. The final thing is certification. The Refurbished phone is certified to ensure its quality and you get quality assurance as a customer. People are considering it a flexible option to shift to refurbished phones because there is peace of mind when it comes to warranty and quality checks!!
Abu Dhabi and Refurbished phones
The capital of the United Arab Emirates, Abu Dhabi is experiencing a huge surge in the demand for Refurbished phones. Here are a few specific reasons:
Economic awareness: People in the UAE are quite advanced in terms of understanding their money investments. They put their money in the right place. Being conscious about what they shop for, there is always a big yes to refurbished phones for them. They are smart consumers who make practical choices according to their budget. Refurbished phones serve as economic alternatives for most of them.
Expatriate Population: A lot of people live in Abu Dhabi for temporary purposes or for work purposes. They tend to migrate often. Refurbished phones work great for them as they are affordable and present them with an option to use a premium quality phone at a competitive price to fulfill their short-term communication requirements.
Awareness about sustainability: Abu Dhabi has already seen a great level of technology advancements. Now the people out there are moving towards eco-friendly choices. As educated citizens of the UAE, they are finally understanding the importance of preserving nature's precious gifts for future generations. It is quite easy with refurbished phones to shift towards a greener lifestyle. People are considering it a hassle-free way of supporting the idea of sustainability.
The future of Refurbished phones in Abu Dhabi
The exponential penetration of new smartphones in the markets of Abu Dhabi has increased the demand for Refurbished phones too.
Some of the leading giants in the field of Refurbished phones are Apple, Samsung, OnePlus, Google Pixel, and Huawei. Among all of these, Apple is ruling the Refurbished market with its significant share of 49% worldwide.
As e-commerce is growing in Abu Dhabi, it has become easier to explore a variety of companies selling reliable refurbished phones. In the upcoming days, this industry is expected to grow even more with the advancement in E-commerce.
The market size of used phones is predicted to cross USD 56 billion in 2023 and touch USD 72.91 billion by 2028.
The UAE government is putting a lot of effort into promoting the utilization of Refurbished phones from an environmental point of view. These sustainable initiatives and commitments are further going to boost the growth of refurbished devices in the UAE by encouraging them to say yes to eco-friendly options.
Abu Dhabi is known for its advanced technologies and gadgets. Due to this, the quality of Refurbished devices is getting better with time, encouraging people to trust them more.
According to the research, the growth of the Refurbished smartphone market is going to touch the compound annual growth rate (CAGR) of around 5.9% in the years of 2023-2028.
Conclusion
Now you are well acquainted with the reasons why there is a growing trend of Refurbished phones in Abu Dhabi. There are endless reasons for this. You can't deny that getting a premium quality phone without breaking the bank has become possible now. You just need to go for the ideal brand like Refurbzoo which deals in refurbished smartphones. You can visit Refurbzoo.ae and start scrolling through the wide range of Refurbished phones available there. It is finally the time to make smarter and greener decisions for your smartphone needs!!