Blog
The Eco-Friendly Choice: How Refurbished Phones Benefit the UAE Environment
by Pia Kalwani on Sep 25, 2023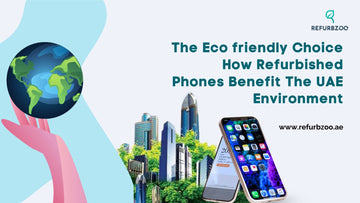 What if you are given a choice to choose one path while standing at a crossroads? One way takes you to your favorite destination but you will have to compromise the planet's health to reach there. Another way also takes you to an indeed beautiful destination and the good thing is that you can get there without hurting the environment. Which one will you choose? Of course, the second one, because it doesn't hurt our nature.
This is the story of buying new phones that take a toll on the health of our environment while buying refurbished phones in Dubai can become a little treat for the planet's health.
People always want to buy the best. But what is best? Can you ever feel THE BEST by not taking care of your own mother earth? Certainly not!! What can really make you feel content and super-best is something that can be friendly with our environment too. This has nothing to do with practical compromises. You don't need to buy something that lacks supreme quality. After all, you are investing your precious money, you deserve the best.
Almost 45% of people have already explored the path of refurbished phones in the UAE. They have successfully managed to find a midway where they can take a stand for their planet as well as fulfill their own requirements.
Let us understand what is happening to the health of our planet. Why the survival of our Mother Nature has become difficult in this era of exponential technological advancement? What are the alternatives and why people are shifting towards refurbished phones proudly?
THE CRAZE FOR TECHNOLOGY IN THE UAE
There was a time when mobile phones were just a means of communication. We used them for talking to our new and dear ones. But the tables have turned. Mobile phones have become smartphones. Talking on phones is just a little part of what we do with this gadget now. The time has taken a huge leap. Phones have become a source of education, entertainment, communication, connection, business deals, news, and whatnot.
From listening to podcasts while jogging to discussing business ideas, we use our smartphones for almost every kind of work. To manage all our day-to-day activities, we need a smooth phone that can bring comfort and ease into our lives. The whole idea of purchasing a good phone is to get a high-class user experience.
What has been done till recent times?
To fulfill our requirements, we used to purchase the best phones in the UAE. The companies were also producing a decent number of phones. But things have evolved now. Our dependency on phones has jumped to a higher level than ever. To meet our advanced needs, companies started manufacturing new and advanced electronic gadgets with enhanced technology. The production of phones increased massively. This results in higher demand for new smartphones every few months.
Nowadays everyone wants to stay up-to-date and that is why they try to buy the latest phone at any cost. This never-ending loop of buying expensive phones time and again had to stop somewhere.
But what is the problem? The technology is being transformed. Our lives are getting smoother. There are ample phones available in the market. Then where does the problem lie?
The problem is huge!!
There is a dark side of this massive advancement in technology that everybody can see but only some people notice.
Let us discuss what it takes to manufacture these tech-savvy phones:
UTILIZATION OF NATURAL RESOURCES:
Phones are not just screens, batteries, and chips. It is made up of many small components. Every single component is made using some or the other raw material.
Here is the list of some of the most common natural resources used in manufacturing phones:
Copper
Tellurium
Lithium
Cobalt
Manganese
From a lot of energy to ample of water, a lot of stuff is used. It is nothing new!! We all know that we have not created all of the natural resources. Moreover, we may or may not be able to create or produce most of these natural resources ever. We are using metals like gold, silver, iron, and more to create lavish phones. We can't stop using all of nature's gifts but we can at least try to reduce our dependency on them.
What is going to happen when we shift to refurbished phones instead of new phones?
A huge reduction in the electronic waste. The landfills with the heaps of e-waste will get some rest and lesser burden.
Massive level conservation of our natural resources. Using refurbished phones will enhance the lifespan of our nature's gifts. This, in turn, also lessens the environmental footprint that is a consequence of smartphone production. Additionally, our future generation will not feel clueless while talking about natural resources. It will proudly learn to use it sustainably.
A significant reduction in carbon emissions. The making of new phones means a lot of greenhouse gas emissions. You can literally save our earth from this torture.
Promotion of sustainable practices. We don't want to contribute any more to the mounting environmental challenges. Shifting towards greener choices will set a benchmark for our future generation too.
Can you trust refurbished phones and their quality?
Definitely!! Refurbished phones undergo a proper refurbishment process that includes:
Inspection and Testing
Repairs and Replacements
Software Update and Reset
Quality Assurance
Certification
The financial advantages of buying refurbished phones
While the environmental benefits of choosing refurbished phones are compelling, there are also significant financial advantages to consider.
Cost Savings
Warranty and Reliability
Like-New Condition
Reduced Depreciation
Conclusion
This is the entire analysis of why owning a refurbished phone in Dubai is 360 degrees profitable for our environment. In a country like the UAE, you can't compromise your quality of life. That is why Refurbzoo is always standing on its toes to help you purchase the best refurbished iPhones and other brands with top-notch quality. It is high time to start making greener choices by choosing Refubzoo for another awesome phone experience!!