Blog
The pros and cons of buying refurbished phones in UAE
by Pia Kalwani on Oct 18, 2023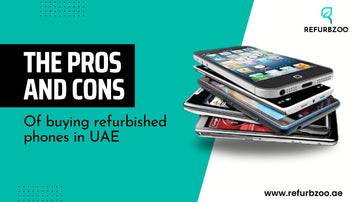 Are Refurbished phones worth it? Did you know that is the most common thing searched about refurbished phones?  In a world where the present technology is evolving faster than ever, you can't survive with an old phone.
We all look out for the latest phones. However, heavy prices are the biggest turn-off here. Buying new phones means spending a lot of money on something that may or may not remain in trend for a long time. Yes, these days, technologies get outdated too soon. The reason is simple: exclusive surge in the transformation of technology.
In these equations, people want a reliable yet affordable alternative to meet their phone needs. Here comes the allure of Refurbished phones. These are becoming the latest choice of many people around the globe. Let us see what are the pros and cons of buying refurbished phones in UAE:
The Pros
Money and more money: When you buy a refurbished phone, you get access to money spare money. You can spend this extra money on other stuff. Refurbished phones are huge cost-savers. You can have access to your favorite phone without entering a financial stress zone. On average, refurbished phones are 50-60% cheaper than their brand-new counterparts. This makes them a fascinating choice for conscious customers.
Quality is everything: Approximately, 80% of Refurbished devices meet the optimum standard of quality. The remaining 20% is missing due to the presence of local sellers in the marketplace. People are highly satisfied with the quality of Refurbished phones and that is why they don't have any more doubts. Reliable refurbishment brands like Refurbzoo have successfully set a benchmark in terms of quality assurance.
The mental peace with Warranty support: Nobody wants to run to the repair shops after buying a phone just a few days back. Most reputable sellers offer 6 to 12 months of warranty support to their customers. People are able to trust Refurbished phones more due to the smooth customer support and warranty policy.
Friendly to the mighty environment: Refurbished phones are closest to the benefits of the environment. People know how much the making of a new phone costs to the environmental health. One phone is manufactured with plenty of natural resources like minerals, metals, energy, and water. In return, we give greenhouse gases and electronic waste to our planet. People gave a sweet spot for Refurbished phones because they reduce the electronic waste and exploitation of natural resources. This has become an eco-friendly alternative for buyers in the UAE. 
Access to your favorite model: Are you still in love with an older model? Well, this is another reason refurbished phones are a great choice. You get the chance to buy the older models that may be unavailable for purchase in the market.
The Cons
Quality with a question mark: As mentioned above, 80% of the Refurbished phones are highly maintained in terms of quality. However, the presence of random or dishonest sellers makes it difficult to give a 100% guarantee of the quality. If you don't want to end up buying a refurbished phone with hidden issues, always do research. You need to find a reliable platform like Refurbzoo to have access to supreme-quality phones.
Not every phone is available: Some sellers have a limited variety of refurbished phones available for sale. This makes it difficult for the buyer to find the desired phone sometimes. Also, you may have to wait for a while to buy the latest model in a refurbished version.
Minor cosmetic imperfections: Although the refurbished phones go through a meticulous refurbishment process, there are certain minor flaws that are inevitable. Customers who are looking for perfection may get unlucky sometimes. However, relying on a trustworthy company can massively reduce the chances of hidden flaws in the Refurbished phones.
The final word
Here you go!! This is what the real picture of Refurbished phones looks like. We have acquainted you with the genuine pros and cons of buying refurbished phones in UAE. Now it depends on your priority.  If you go for a well-known brand like Refurbzoo, then you can forget about the CONS. Because Refurbzoo offers you access to a vast range of variety. You can buy your favorite phone model with zero disappointment. No hidden flaws and quality surely matches the level of what you expect from a brand-new phone. It is time to make some greener decisions and smarter choices with Refurbzoo!!