Blog
Titanium iPhone 15 Pro has a new Action Button and a USB C Port replacing the lightning port!!
by Pia Kalwani on Sep 14, 2023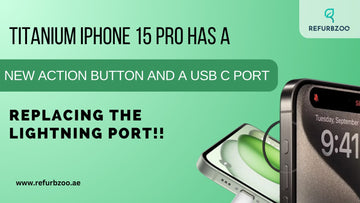 APPLE PRODUCTS TO BECOME CARBON NEUTRAL TILL 2030: TIM COOK
The wait is finally over. On 12th September, Tuesday, Apple launched its most awaited iPhone 15 model with some convenient and environment-friendly upgradations. What's new?? An enhanced 48-megapixel camera, sustainable and reusable material, improved display, and a smart battery with fully recycled cobalt and more cool stuff.
What has not changed is its 6.1 – 6.7 inches physical dimensions just like the older versions launched in the previous year. Just like the iPhone 14 and iPhone 14 Pro models, there is no 'mini' iPhone 15 this year. But here is a little twist. Some cool and attractive features that are introduced in iPhone 15 and 15 Pro models are an improved processor with an A17 Bionic chip, frosted glass back, a rear camera with enhanced resolution, and for 'alert notifications' it has introduced an astounding interface for Dynamic Island. Also, you can't resist the new colors unveiled for iPhone 15 such as yellow, black, pink, green, and lighter blue shade.
If you focus on the major changes introduced by Apple are in their improved rear camera system in their iPhone 15, 15 Pro Max, and iPhone 15 Plus models.
The significant jump from a 12-megapixel wide-angle camera mains lens to a 48-megapixel resolution is going to attract a lot of new customers.
Do you know that iPhones are the treasure of Apple brand. Around 50% of Apple's profits are generated directly from the sale of iPhones. Recent decades were not very much money-making years for Apple. This is the reason why Apple is trying to recover the financial losses by launching new models like Apple iPhone 15 Pro and Apple iPhone 15 Pro Max with attractive features.
Here is what you need to know about the new key announcements of iPhone 15:
First of all, you should know that Apple has launched its iPhone 15 and iPhone 15 Plus models with a feasible display of 6.1-6.7 inches just like its predecessors.
You will get the stunning feature of a 48-megapixel main camera. You can caption extra zoomed pictures with a 2x telephoto lens in the camera. You can shoot 4k videos without any problem. Additionally, this model features an A17 and an A16 Bionic chip instead of an A14 or 15 processor.
USB C Charger: A MAJOR SHIFT IN THE IPHONE SERIES!!!
Finally, Apple has said goodbye to its Lightning plug with a 15-pin connector. This huge thing was announced during the launch of the iPhone 15 on 12th September 2023.
This reversible, flexible, and smooth Lightning plug worked very well for Apple in terms of data and power-sharing facility.
However, the number of Apple devices is rising without a break and so is the demand for power-generating Apple chargers. More Apple devices need more Apple chargers with higher production rates and higher energy consumption.
A significant amount of environmental crises are being raised due to the terror of electronic waste. European Parliament has played a major role in bringing the evolution of Apple's charging system. EU has already announced its standard requirement for the use of USB C ports all over the world. This decision has been taken by keeping in mind the rising electronic waste in landfills. After a revolutionary journey of 11 years, Lightning connectors are all set to leave the Apple world forever.
Now Apple users won't experience that common FOMO (fear of missing out). Usually, they feel left out while hanging out around Android phone users. iPhone users have always faced the struggle to carry their own Apple charger wherever they go. The irony was they couldn't even ask Android users to share their chargers in case they missed their own chargers at home. All this mess will come to an end with the launch of the iPhone 15. You can leave your charger at home and share the charger with Android users. Also, you can use this USB C charging cable for all your Apple products including Mac, iPad, AirPods, AirPods case, iPhone, or Apple watch. Moreover, the data transfer like importing and exporting videos and photos is faster via USB C cable than the old Lightning plug. Transfer speed is up to 10 GB per second. Problem solved!!
However, you are unfortunately living around 100% Apple users, then you may have to buy a new charging cable that is compatible with iPhone 15. Now, the U in USB literally stands for UNIVERSAL in every smartphone.
EPA (European Parliament Association) has recommended the names of prominent brands that recycle electronic waste efficiently. Some organisations are Earth911, and GreenerGadgets. You can offer your Lightning plug cables to such organizations and switch to the convenience of USB C cables.
New Action Button
Apple has introduced a new Action Button by replacing the ring-silent switch located on the left side.
Now iPhone users can conveniently switch between ring mode and silent mode. You can change the working of the Action Button by customizing it via settings. For instance, you can also use the Action Button to turn on the camera, open any accessibility function, launch the voice memo for audio recording, and more.
What is the buzz about Titanium body in iPhone 15?
While the overall design of the iPhone 15 is identical to the last model, it has introduced a titanium frame in its Pro models.
The titanium material makes the iPhone 15 Pro the lightest iPhone ever. Gou will get to see curved and tiny bezels that are small enough to take up less space around the display. iPhone 15 Pro features four colors including white titanium, black titanium, blue titanium, and natural titanium.
Things you should know about iPhone 15
The iPhone 15 Pro model has introduced a 6.1-inch Super Retina XDR display and to endure durability it has a pretty ceramic shield.
The evergreen OLED display featuring ProMotion has an enhanced refresh rate of up to 120Hz.
Display resolution: 2556 by 1179 and 460 pixels per inch count.
You will get the comfort of True Tone, Haptic Touch, a contrast ratio of 2,000,000:1, and P3 wide color.
The 1000 nits brightness is there for usual days which can jump up to 2000 when needed.
The brand new generation of Apple's A17 Bionic chip in iPhone 15 Pro models is a great advancement. It is equipped with around 19 billion transistors,  6-core CPU (new) to boost 4 efficiency, and 2 performance cores with 10% faster speed.
There are three back cameras in the iPhone 15 Pro model. The main camera has been introduced with 48 megapixels with improved portrait and night mode picture quality via reduced lens flare due to its new nanoscale coating.
The main camera has:
24 mm of focal length

f/1.78 aperture

Second-generation sensor shift OIS
People who have a thing for low light photo performance can now get enhanced picture quality up to 2x boost via the main camera.
LIDAR scanner and Photonic Engine are together going to improve the Night Mode performance quality.
The Ultra Wide camera and main camera are supporting 3D spatial video recording in the iPhone 15 Pro models.
Features of the TrueDepth camera
12-megapixel lens

f/1.9 aperture

Auto Focus and Focus pixels

4k videos

Cinematic video stabilization
Apple has also introduced a new Ultra Wideband 2 chip in its iPhone 15 Pro models to help the user locate the misplaced phone and the other devices that have this chip in it. You can find friends and family ones in crowded spaces with the help of this UW2 chip. One person will share his location and with the help of FindMy, you can search each other.
The real craze for Apple launches can be seen in the UAE where people have bombarded the internet with the searches of Apple iPhone UAE and iPhone Dubai.
People are really curious to know the iPhone 15 pro price and iPhone 15 pro max price, and they are especially searching stuff like 'iPhone 15 price Dubai, 'iPhone 15 price uae' and 'iPhone 15 pro price Dubai'. this clearly shows the excitement level for the iPhone 15 in UAE. Let us unveil the price category of the iPhone 15 UAE.
The price range of iPhone 15 in UAE
The starting price of the iPhone 15 lineup is 3,399 Dirham.
Let us discuss the price range for individual iPhone 15 in UAE:
iPhone 15: AED 3,399
iPhone 15 Plus: AED 3,799
iPhone 15 Pro: AED 4,299
iPhone 15 Pro Max: 5,099
You can buy this new hot Apple iPhone 15 in the UAE from September 22. These iPhones will offer a storage range including 128 GB, 256 GB, and 512 GB options for storage.
The bottom line
Finally, Apple launched its iPhone 15 lineup in the recent fall event. We can find some familiar features that have always brought a sense of comfort. While retaining most of the identical features to its predecessors, Apple has also introduced some new revolutionary changes to its product.
Which feature has taken you one step closer to purchasing this new iPhone 15 in the UAE? Well, the iPhone has launched something new for everyone. Some people can find the introduction of USB C port very useful and others may like the idea of using the lightest iPhone ever. You have already given a basic idea of the Apple iPhone 15 price in UAE. Pull up your socks guys because it's time to switch to iPhone 15 for many of you.  Are you searching for an iPhone 15 in Dubai?
People who have a tight budget must try selling their current phones on Refurbzoo.ae, a brand that deals in Refurbished phones. This way you can make some money to buy this latest iPhone 15 model. It is a great deal, isn't it? Visit now!